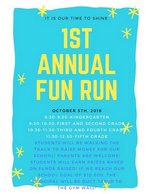 Fun Run
Related Files: editFun_Run_sponsorship_form.doc-1.docx
To whom it may concern:
Lavonia Elementary PTO along with the school are planning our 1st annual Fun Run on October 5th, 2018. Thanks to our PTO, staff and parent volunteers, 100% of the profits are used directly at the school to support the educational and recreational efforts of our students. Our goal for this year is to enhance our school building and our outdoor facilities including new picnic tables for our new outdoor classroom. This will provide our students with options for PE and recess as well as provide our teachers an outdoor place to host classes. This will be our first annual Fun Run, but we hope to make it a tradition for years to come. Our business sponsors are critical to our success and we are excited to obtain some great sponsors this year.
The following advertising options are available with sponsorship (details on sponsor form):
● Company name or personal message on t-shirts for students and staff
● Company logo on t-shirts for all students and staff
● Yearbook advertisement with pictures from the Fun Run
Please consider partnering with Lavonia Elementary by sponsoring the Fun Run. The sponsor form is located on the back of this letter. Please feel free to contact Jenica Johnson with any questions. The deadline to support the fundraising event is Friday September 14th.
On behalf of Lavonia Elementary, thank you in advance for your continued support.
Sincerely,
Jenica Johnson
Lavonia Principal
Ashleigh Finger
PTO President