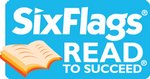 Earn a Six Flags ticket!
Earn a Six Flags ticket when you read!
Read to Succeed is an exciting program that encourages students in grades K through 6 to read for fun. Students who complete six hours of recreational reading earn a free ticket to Six Flags! The program is available to teachers and schools at no cost to participate, and it's a great way to motivate kids to read.
LES participates in the Read to Succeed program every year. Look for information to come home when it is time to begin!