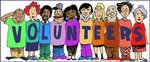 Be a Volunteer!
Follow the instructions for volunteer requirements
In order to comply with the new Mandated Reporter Law, all employees, or volunteers of an organizaion that "provides care, treatment, education, training, supervision, coaching, counseling, recreational programs, or shelter to children" must complete the rquirements.
A person is considered a volunter after their third visit to a school or when chaperoning students on a field trip. BEFORE the fourth visit or a field trip, you must complete the Mandated Reporting" module through the Compliance Director online training sight. This can be completed at home or at the Board of Education office.
Upon completion of this online training you will receive and e-mail confirmation. Please present this email to the secretary or administator of the school which you volunteer to be placed on the volunteer list.
1. Enter the following web address in your browser: https://www.compliancedirector.org/
2. Click on "Georgia."
3. Under current Modules click: "Mandated Reporting."
4. Log into the Madated Roprting Module using the following username and password:
Username: pioneer
Password: resa
Click: "next" to proceed.
5. Read Module and answer questions.
6. When you have successfully completed you will be asked you will be asked to choose your school system. Click on "Franklin County"
7. You will be promtpted to a login to register you completion of this specific module. This username and passwrod will allow you to successfully register thus creating a legal record that you have taken the training. (enter exactly as written below).
* Your system registration username is: Franklin County
* You system rehistration password is: Paper
8. Enter your personal information. (Including you DOB, last 4 digits of your SSN, work location and e-mail address) Click "Next." You will receive an e-mail notification of your successful completion of each module.