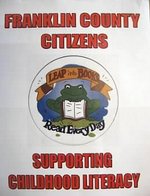 Leap Into Books! Read Every Day!
Check out our Facebook page!
The Franklin County Ferst Readers is a non-profit organization dedicated to promoting early literacy to children from birth to age 5 by providing free books each month to children until they graduate from the program at 5 years old. If you would like to make a donation or would like to sign up a child between the ages of birth-5 years old who lives in Franklin County, contact Mrs. Bryant in the media center at 706-356-8209.
You can follow us on our FB page or visit our website at https://sites.google.com/franklin.k12.ga.us/franklin-ferst-foundation/home